LMWX
NICHOLAS PIRAMAL INDIA LTD
GENERIC NAME : ENOXAPARINE SODIUM
Lmwx 60 mg injection is anticoagulant drug used prevent blood clots in patients with angina pectoris. It contains enoxaparin as the active ingredient. Its role is to prevent the formation of blood clots, and it can also prevent clogging of blood vessels in the body. used as a preventive medicine for patients undergoing surgery. The medicine will  injected to you by your doctor or nurse in the hospital, and the dosage and duration will carefully evaluated based on your health.
Tell your doctor if you are pregnant, planning to become pregnant, or breastfeeding, as well as all medications and supplements you take, and any conditions or illnesses you had before you started taking this medication. For patients who have undergone surgery.useful for patients suffering from angina, which is chest pain caused by reduced blood flow to the heart.
Dosage
Overdose
The doctor or nurse will give you an injection of Lmwx. Therefore, you are unlikely to overdose this drug. However, if you experience severe bleeding from your gums, nose, or anus immediately after receiving the injection, please notify your doctor immediately. A severe overdose of this drug may even cause internal bleeding.
Missed a Dose
When you should receive the Lmwx 40 mg injection, your doctor or nurse will monitor you. The dose is unlikely to  missed. However, if you think your doctor or nurse may have missed a dose, please let them know.
Uses of Lmwx
Lmwx 60 mg Injection is used to prevent blood clots and as a precautionary medicine for patients who have undergone surgeries. It is also useful for patients who are suffering from angina, that is, chest pain due to reduced blood flow to the heart.
Lmwx 60 Injection treats and prevents the formation of new blood clots. this Injection prevents forming new blood clots and prevents the existing ones from growing larger in size. Lmwx 60 Injection works by blocking a protein in the body which is involved in blood clotting. Thus it drives a smooth flow of blood throughout the body. This also reduces the injury caused by clots in your lungs (pulmonary embolism), brain (stroke), heart (heart attack), or other blood vessels (thrombosis). It can also used to prevent the formation of clots in people who have undergone surgery, for example, to replace a knee or hip joint.  stops the growth of clots into bigger sizes but does not help to dissolve blood clots. It restricts the breaking of clots and blocks them to travel to other parts of the body.
Directions for Use
Doctor nurse will inject the injection under your skin. Tell your doctor about kidney or liver problems before taking the injection of LMWX 40 so that the dose can adjust accordingly. blood tests advised to monitor the effect of treatment with LMWX 40 injection.
When not to use?
Allergy
It is not recommended for patients who are known to allergic to Lmwx injection, heparin and pork products.
Bleeding disorder
Not recommended for patients with acute severe bleeding or any bleeding disorders.
General Instructions
Take Lmwx 40 mg injection as prescribed by your doctor. Do not take more or less medicine than recommended. Treatment should start with a lower dose and gradually increase the dose according to the response. Do not stop taking this medicine without notifying your doctor.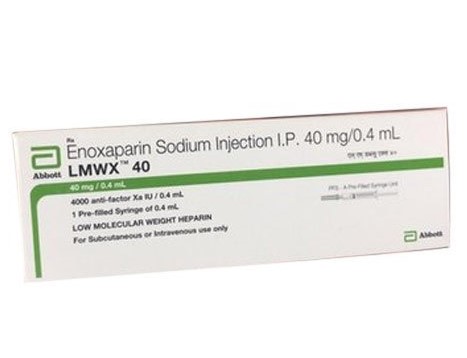 Precautions and Warnings
Alcohol
Can I consume alcohol with the Lmwx Injection?
The interaction of the Lmwx 40 mg Injection with alcohol is unknown. Please consult with your doctor for more details.
Pregnancy
Can I take the Lmwx Injection during pregnancy?
Lmwx Injection taken by pregnant women only if prescribed by a doctor.
Driving
Can I drive if I have taken the Lmwx Injection?
One of the known side effects of Lmwx 60 mg Injection is dizziness. Thus, you should avoid driving if you are feeling dizzy.
Drug Warnings
Use Lmwx 40 Injection with caution in conditions with increased risk of bleeding. Monitoring of blood clotting tests, such as platelet count and hematocrit, performed in all patients receiving Lmwx 60 injection. Patients should inform the physician if they are on active treatment with this Lmwx 60 injection before scheduling any surgery.
Other General Warnings
Talk to your doctor if
You have diabetes, liver or kidney-related problems. You have undergone some surgery. Talk to your doctor if are suffering from any blood-related disease. You recently suffered a stroke or have high blood pressure.
Dosage
Injection: Lmwx 60 MG Injection  given by a qualified healthcare professional in the hospital setting, the likelihood of missing a dose is very low.
Tablet: If you forget to take a dose of Lmwx 60 MG Injection, take it as soon as you remember. if it is almost time for your next dose, skip the missed dose. Do not double your dose to make up for a missed one.
Gel: Apply the missed dose of Lmwx 60 MG Injection as soon as you remember. If it is almost time for your next dose, skip the missed dose. Do not apply a double dose to make up for the missed dose.
Injection: injection given by professional overdose chance is less
Gel: An overdose of Lmwx 60 MG Injection not likely to cause severe symptoms unless applied for a prolonged period of time in large volumes. However, ingestion of this medicine may cause harm and immediate medical intervention may required.
Tablet: medical attention required when overdose of Injection.
Side effects
Diarrhea

Injection site bleeding

Irritability

Fast heartbeat

Fever

Dizziness

Increased menstrual flow

Bleeding in gums
Like other drugs, Lmwx 40 Injection 0.4 ml to have some side effects. However, these side effects are temporary and resolve after a while. Most of the side effects, such as nausea, diarrhea, headache, increased blood platelets, and increased liver enzymes, you may also feel dizzy and your hands and feet appear cold, so you do not need medical attention. Call your doctor if you notice blood in your vomit, urine, or stool. Also, tell your doctor if you find purple or red spots on your skin.
FAQ
What is LMWX?
Lmwx injection is a blood thinner used to prevent and treat harmful blood clots. It prevents the expansion of existing clots and limits the formation of any new clots. It also helps prevent venous thrombosis, a condition called deep vein thrombosis and pulmonary embolism.
What is LMWX injection?
LMWX contains enoxaparin, which belongs to a group of drugs called low molecular weight heparin or LMWH. It is used to prevent and treat blood clots. Its function is to prevent the existing blood clot from getting bigger.
What is LMWH injection?
Low molecular weight heparin (LMWH) is a class of anticoagulant drugs. They are used to prevent thrombosis and treat venous thromboembolism (deep vein thrombosis and pulmonary embolism) and treat myocardial infarction.
When is enoxaparin used?
Enoxaparin is used to prevent blood clots in the legs of patients who are resting in bed or undergoing hip, knee, or gastric replacements. It can be used in combination with aspirin to prevent complications of angina (chest pain) and heart disease.
How do you use LMWH injection?
Insert the entire needle into the skin fold at a 45 to 90 degree angle. Then slowly push the plunger down until the full dose of LMWH is delivered. Remove the needle while loosening the skin folds. Discard the syringe in the yellow sharps box you received.